The REPULS deep radiator represents a world first in the field of light therapy. With pulsed cold red light, a particularly gentle and rapid healing of inflammatory processes and pain relief is now possible. With the REPULS deep radiator, RELUX offers another milestone in non-invasive therapy.
The operating principle of the REPULS® deep radiator
Method:
High-intensity, pulsed, cold red light is applied as LTB 4 antagonist. Via destabilization of the 12 oxoleukotriene B 4, there is an impairment of the inflammation-controlling messenger substance LTB 4. Inflammation and pain can thus be treated without side effects with a success rate of up to 95%.

Frequency:
REPULS generates intense red light that penetrates deep into the tissue.
This red light is gentle to the tissue and therefore well tolerated.
The required biochemical effect is achieved by electromechanical
oscillations of the mediators (organic molecules that control inflammation) in the
inflammation) in the frequency range of the UV light ("frequency doubling").
achieved. The effect of messenger substances is thus impaired in such a way that
the inflammation can subside.
Pulsation:
The radiation rhythm of 2.5 light pulses/sec. (Hz) serves with its
pauses between the light pulses serve to remove the reaction products resulting
products resulting from the irradiation via the bloodstream.
This proven measure has an additional tissue-protecting effect.

No undesirable side effects are known.
Indications: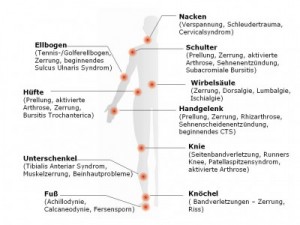 More information from the manufacturer RELUX at:www.relux.at/repuls